Sylvia discovers poetry!



I never thought I could write any kind of poetry. Although occasionally I seemed to only be able to express something I wanted to write about in verse. I was considering taking a Creative Writing class a year or so ago at Northeast State Community College near my home and found that one of the requirements was to write five (FIVE!) poems. I almost didn't take the class because of that requirement, but I'm so glad I did. I would have missed a wonderful class and some talented fellow students, as well as a great instructor, Gretchen McCroskey, who has become a good friend.

One of the five poems I wrote for the class was a memoriam for the couple my siblings and I called Mamaw and Papaw. They raised our father from the time he was six years old. The poem appears on this page. It was one of two of mine selected to appear in the college's annual literary journal, Echoes and Images, in 2001.

The second poem is in a lighter vein. I wrote the rough draft of it while we were driving home up Interstate 40 from visiting relatives in Georgia.


Sylvia

RESPECT
©2002 Sylvia Nickels

Branded with the scornful epithet, 'illegitimate'
in a back-country settlement, she grew to girlhood
before Wynonna, Madonna and Tanya made
having babies while still single the norm.

A cold stepfather dashed her longing for love and a
life of drudgery was the station of mother and daughter.
Still, deep in her heart, she hid the fragile dream
of a devoted and tender home.

Unaware her dream was near, she met a boy,
his body grown rugged from grinding toil
for bed and bread, because he had no father
and a frail mother in her grave before he was ten.

Their lives united and the years took wing,
blessed afresh when a young cousin became their son.
Time took its toll of once stalwart bodies, but
their spirits still were strong.

At last, in flower-filled rooms, their
prevailing courage had earned for these two,
love, family, and whispers of respect.


Click thumbnail for larger picture. Use browser back button to return.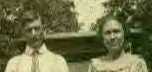 JOYS OF INTERSTATE TRAVEL
©2002 Sylvia Nickels

Merging lanes of traffic abandon the city.
Pine green consorts with red and yellow leaves.
Orange construction signs shout at 1000, 500 feet,
as rude SUV driver whizzes past to shove in line.

Two wheeler roars by on the right,
three foot concrete barriers between us.
Eighteen-wheeler looms on the left,
as we leave construction behind.

Screaming of tortured tires is heard,
black skid marks bolt from the pavement.
Cluster of vehicles ahead scatter
to avoid the runaway van.

State Police car emerges from on ramp,
blaze of brake lights form instant bottleneck.
Green Interstate information signs materialize,
as need grows for sight of "Rest Area, next right."






Poetry 2